Information Fairs for Surrey carers marking Carers' Rights Day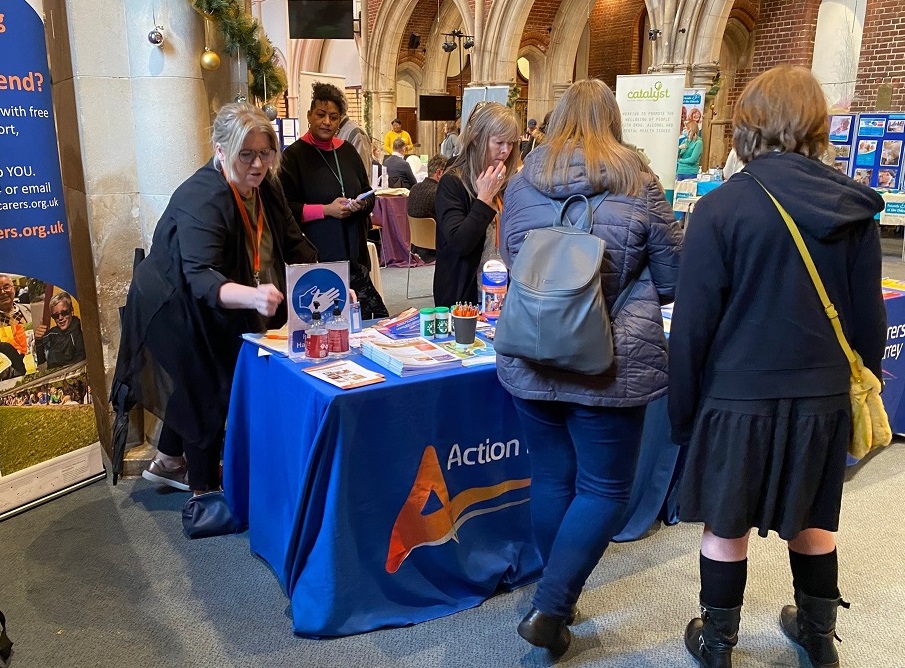 Free drop-in information fairs for Surrey's carers
Carers Rights Day takes place on Thursday 23rd November.
It's a national event when unpaid carers are encouraged to learn about their rights and we all work towards ensuring carers get all the support they need.
Across the week around Carers Rights Day (from Monday 20th till Saturday 25th), Action for Carers Surrey are running Carer Information Fairs, focusing on rights, at our Carer Hubs, which are drop-in events at locations across Surrey.
Wide range of support
A variety of Surrey charities and organisations will be joining Action for Carers staff to answer questions – practical, financial, legal – about your caring role, and offer general support, advice and information.
Staff from the various Action for Carers services will be attending most Hubs: Adult Carer Support team, Surrey Young Carers, Hospital Carer Advisors, and the Moving & Handling team.
In addition, you can pick up our 'carers rights' postcard, free newly updated booklets, plus some little giveaways – and enjoy a free coffee and cake!
Interested in attending?
These events are all drop in, so carers should feel free simply to pop along.
To find out more about the events, or if you are an organisation, to take part, please email [email protected]
When and where
The 2023 Action for Carers Surrey Information Fairs are happening at the following venues. Events are all drop-ins, and free to attend.
TIME: All run from 11am-2pm (except Guildford which starts 10am)
The Fairs take place at our Carer Hubs, as follows: 
Monday 20th November
WOKING: The Vyne Centre, Knaphill, Woking GU21 2SP – more here.
CRANLEIGH: The Bandroom, Village Way, Cranleigh GU6 8AF – more here.
Tuesday 21st November
CAMBERLEY: High Cross Church, Knoll Road, Camberley GU15 3SY – more here.
EPSOM: St Barnabas Church,  Temple Rd, Epsom KT19 8HA – more here.
Wednesday 22nd November 
HORLEY: Horley Baptist Church, Horley RH6 8RG – more here.
ADDLESTONE: Addlestone Community Centre, Garfield Rd, Addlestone KT15 2NJ – more here.
Thursday 23rd November
CATERHAM: Westway Community Café, 25 Chaldon Road, Caterham CR3 5PG – more here.
Friday 24th November
LEATHERHEAD: Leatherhead Community Hub, Kingston Road, Leatherhead KT22 7PX – more here.
Saturday 25th November
GUILDFORD: The Hive, Park Barn Drive, Guildford GU2 8EN – more here.
(We were hoping to hold an event in Hersham, and this was previously advertised, but unfortunately we've had to cancel it for venue reasons. Our apologies.)
Rights for all carers
Carers' Rights Day highlights the importance of all carers, whatever the stage of their caring journey, knowing and understanding their rights – and being able to access all the support they are entitled to and need.
Free booklets
At the Fairs we'll have copies of many of our key booklets and forms available, that help you with your role, and rights.
These include:
The Carer's Checklist
The Carer's Hospital Guide
Emergency Planning Guide
The Carers Needs Assessment Guide
You can also view and download our booklets and forms here.
Can you put up a poster?
We'd be very grateful for help to spread the word about these Fairs. Could you put up a poster in  your local shop, library or community centre?
Please click on the fair nearest to you, below and print out the poster. THANK YOU!
Carers Fairs Carers Rights Week ADDLESTONE
Carers Fairs Carers Rights Week CAMBERLEY
Carers Fairs Carers Rights Week CATERHAM
Carers Fairs Carers Rights Week CRANLEIGH
Carers Fairs Carers Rights Week EPSOM
Carers Fairs Carers Rights Week GUILDFORD with HIVE
Carers Fairs Carers Rights Week HORLEY
Carers Fairs Carers Rights Week LEATHERHEAD