Do you want to do some fundraising, have fun and make a difference to Surrey's carers?  If so, we would love to hear from you today.
We can give you inspiration, ideas, support and advice, as well as provide you with fundraising props such as collection buckets, tins, leaflets, banners and balloons.
It's easy to start fundraising now!  You can set up a justgiving page and start fundraising today: justgiving.com
Whatever you have in mind, we'd be grateful for your support. Do get in touch today: [email protected]
Had a fun idea?
If you've had an idea, do get in touch. It could be simple, or outrageous!
Jule's 100 Hats Challenge
Jule's set herself the most amazing challenge; to do 100 outdoor swims in 100 different – and fabulous – hats. Each one has a story attached. She's raising money for Action for Carers and Alzheimer's Research UK.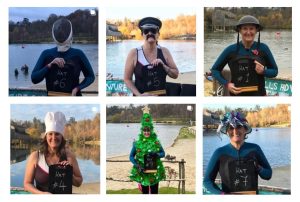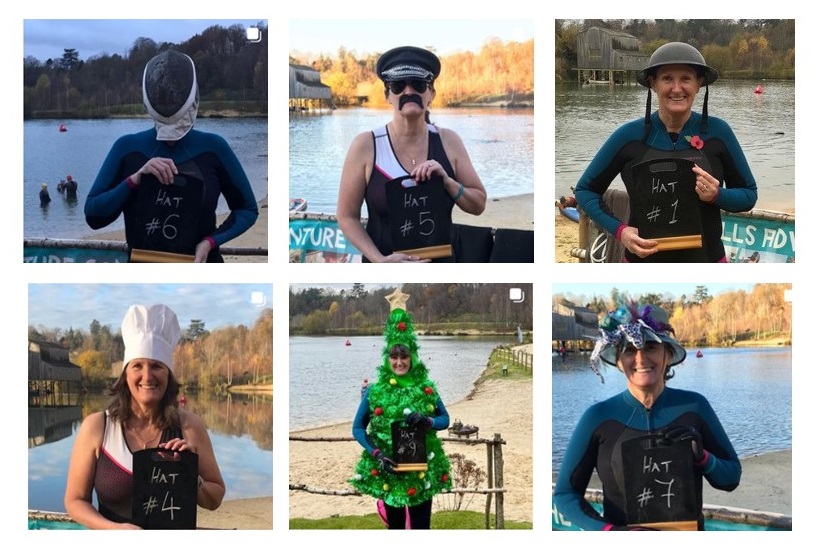 We take our hat off to you, Jule! And if you feel the same, you can support Jule and see her latest hat on her JustGiving page.
Jule's 100 Hats JustGiving page
Are you celebrating?
Sometimes it's nice to mark an occasion with a collection. This lovely couple asked their friends and family to support good causes.
Set up a Justgiving page so your friends and family can easily make a donation https://www.justgiving.com/actionforcarers or just get in touch with us. 
Make your spending go further…

Did you know that whenever you buy anything online – from your weekly shop to your annual holiday – you could be raising free donations for Action for Carers Surrey with easyfundraising?
There are over 4,000 shops and sites on board ready to make a donation – including eBay, Argos, John Lewis, ASOS, Booking.com and M&S – and it won't cost you a penny extra to help us raise funds.
All you need to do is:
Go to easyfundraising.org.uk  and join for free.
Every time you shop online, go to easyfundraising first to find the site you want and start shopping.
After you've checked out, the retailer will make a donation to Action for Carers Surrey at no extra cost to you whatsoever!
There are no catches or hidden charges and we'll be delighted with your donation.
Leaving a gift in your will
We don't know what the future for carers is going to look like. Gifts in wills mean we can be there for carers – today, tomorrow, for however long they need us.
Many people like to leave specific gifts in their will; how you leave your money in your will is completely up to you. You can leave a percentage of your estate (1% or more), a specific cash sum or even a specific item such as a car or piece of jewellery. Talk to your solicitor further about making a will.
If you would like to leave a gift to Action for Carers Surrey, all you will need to do is provide your solicitor with our registered address and charity number:
Action for Carers Surrey
Astolat
Coniers Way
Guildford
GU4 7HL
Charity number 1116714
Charity 'Remember a Charity' have a helpful guide to help you when thinking about and preparing your will. Click below to download:
If you already have a will, but would like to add a gift to Action for Carers, then you will need to make a codicil. A codicil is a legal amendment to a will for minor changes, such as adding or increasing a gift to a charity. Like a will, a codicil needs to be signed and witnessed. Your solicitor will be able to send you a codicil form.
Payroll giving
Give as You Earn is one of the easiest, most tax-efficient ways of making a regular donation to Action for Carers, as it enables you to give directly from your pre-tax salary.
If you're a UK taxpayer, payroll or workplace giving allows you to give a monthly donation to Action for Carers Surrey directly from your gross salary.
How it works
For example, if you are a basic rate taxpayer and donate £5 a month, only £4 will be taken from your pre-tax salary and the taxman will make up the rest. You can donate any amount (anonymously if you prefer), and if your circumstances change, you can stop your payments immediately.
Contact your Human Resources department to find out if your company is signed up to the Give as You Earn scheme. If they are, then you will only have to complete one simple form that they will give to you.
If your employer is not signed up to the scheme, they will find further information and advice (including how to join) from the Charities Aid Foundation website: Charities Aid Foundation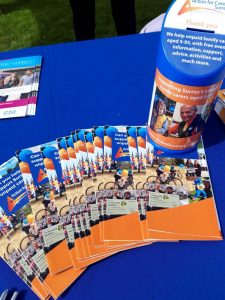 We'll be delighted to help and support you, discuss your fundraising ideas or answer any queries.  Do get in touch today: [email protected]