Help on getting yourself prepared
Being prepared for emergencies is always a good idea as a carer. It helps to think about things like which family members, friends and neighbours could help in an emergency. A key resource for being prepared is an Emergency Plan.
An Emergency Plan is a really useful document where you put all the information about your caring role in one place. So should you become unwell yourself, or be unable to care for whatever reason, it's clear exactly what needs to be done if somebody else needs to take over. Having a plan can also help you feel less worried.
We have a blank Emergency Planning Form for you to use. It covers:
Emergency contacts
The tasks you do
The needs and behaviours of the person you support
Medication
Equipment, etc
Download an Emergency Planning Form in Word
Download an Emergency Planning Form as a PDF
Or call us on 0303 040 1234 and we can post it to you.
Write very clearly, or type, and avoid abbreviations. Try and be as detailed as possible.
All about Me Form – Hospital Stays
If the person you care for has difficulty communicating, or has a condition such as dementia or autism that might make a hospital stay particularly challenging, please consider using our 'All About Me' form.
This simple form outlines the person you care for's likes and preferences,  as well as containing some information about them. Ideally then Hospital Staff are better informed, and the carer for's hospital stay can be less stressful.
'Message in a Bottle'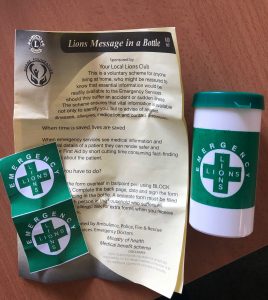 The Lions Club Message in a Bottle is a scheme where you store important information in a bottle in your fridge. You display one sticker on the inside of your front door and one on the fridge and emergency professionals know to look for them.
If you would like one, contact our Carers Information Centre on 0303 040 1234.
Gas, water, electricity – getting priority support
From keeping water running for drinking and washing hands, to charging medical equipment or mobility scooters, to staying warm, it's vital to keep utilities going in the event of a problem with your gas, electricity or water supply.
If you or the person you care for are classed as 'vulnerable', you can be put on your utility company's 'Priority Services Register', meaning your home will be prioritised in terms of getting emergency supplies and repairs. You'll also get other benefits, such as advanced notice of planned power cuts or interruptions to water supply, help with accessing prepayment meters, receiving bills in an alternative format and more.
People who may qualify for this service:
are of pensionable age
are disabled or chronically sick
have a long-term medical condition
have a hearing or visual impairment or additional communication needs
are in a vulnerable situation
have young children under the age of five
To find out more about Priority Registers, contact each of your utility providers – their contact details will be on your bills.