The Young Carers Forums are sessions where young people get together to discuss issues of importance to them as carers – often projects which lead to improvements benefiting all young people with caring roles.
It's important to us as a carer-led charity that we enable young people to have their say. Carers are the experts in caring, and their experiences and opinions help shape what we do and the changes we want to make externally.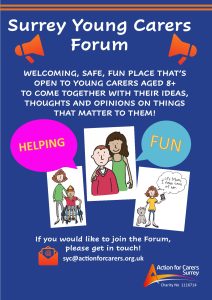 Different groups
We have a Junior Forum for children 8-11 and a Senior Forum for young people aged 12 and upwards. We either meet in person, or via Zoom, and there's usually around 10-15 young carers attending. When you become part of the Forum, we hope you can come along to lots of meet ups.
Getting involved with the media
Forum members are also often asked share their voice more widely, speaking at events, on TV and radio, gaining new skills and making young carers' situations real for professionals and the public.
Being on our Forum is a great opportunity to meet other young carers, take part in fun and social events – and make a difference!
What members say
Some changes we've made
We've lobbied MPs to have the Care Act changed
We've worked to make GPs understand how to support young carers
We led a campaign to get bus passes for young carers
We've designed leaflets and posters to help young carers get support
We've given talks to professionals
We've appeared on radio, TV, newspapers, and magazines
We've held conferences improving professionals understanding of young carers' lives
Take a look of some of our achievements pictured below!
The Young Carer's Poem
And take a listen to one of our creative projects, The Young Carer's Poem, read by a young carer, but created as a group.
Interested?
Like the sound of it? Want to get involved? Just get in touch! Email [email protected] or text 07723 486730.