At Action for Carers, we support carers of all ages across Surrey. Our employees feel supported and really believe in the valuable work that we do. We're proud to make a difference to the families and communities we work with.
What makes Action for Carers a great place to work
Work-life balance
We offer a generous 28 days of annual leave plus bank holidays each year, increasing to 31 over time.
Our standard working week for full-time staff is 36 hours and a number of our job roles are part-time, giving employees the balance between work and home that they need.
Our flexible working policies are designed to support our employees, many of whom are carers themselves.
Wellbeing at work
Helping you stay healthy and caring about your wellbeing is important to us.
We provide an Employee Assistance Programme and encourage open conversations during regular one-to-one supervisions. Our employees tell us that they feel supported and listened to.
Learning and development
Our teams meet regularly, sharing knowledge and best practice, in order for us to provide comprehensive support to carers. We are committed to providing employees with the training that they need in order to properly support carers.
We all meet at twice yearly away days, which give us the opportunity to innovate, share success and have fun.
Our commitment to Equality, Diversity and Inclusion
Surrey is a diverse county, carers live within EVERY community and our ambition is to recruit great people from a wide range of backgrounds. This is not just the right thing to do, but because it makes our charity stronger.
Supporting Working Carers
Due to the nature of our work, we have a significant number of carers working for our organisation. We believe that our working carers contribute hugely to the success of the charity and our aim is to support them through carer-friendly policies and practices.
To this end, we have a number of high quality part-time job roles, generous leave entitlement and we demonstrate a flexible approach to work where organisationally possible.  We also have a staff 'carers' champion' who people can contact about any issues related to caring, and we survey our employee carers annually to find out what is important to them.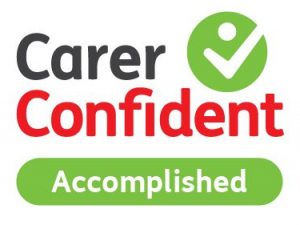 We are also accredited as a 'Carer Confident' employer.'Carer Confident' is the Employers for Carers' benchmarking scheme. Noticeably, we were the first carers' charity to be accredited, and only the second charity (Age UK being the first). The scheme assists employers to build a supportive and inclusive workplace for staff who are (or might become) carers, and to make the most of the talents that carers can bring to the workplace. The scheme also seeks to recognise employers who achieve this, and inspire others to follow suit.
As well as this, there are carers within our senior management team; and the majority of our trustees are carers or former carers, meaning that we do really consider carefully the needs of carers when making decisions at every level.