Young carers in schools, colleges and universities
Life at school or college provides challenges for all young people, but for those with a caring role at home there are often additional difficulties with their education. Commonly there are issues with attendance, concentration, behaviour, achievement and home-school communication.
Teachers, lecturers and other education professionals can help by identifying, supporting and referring young carers to our service 'Surrey Young Carers'.
In schools
On average, there are at least two young carers in every class*. They often face challenges because of their caring role, meaning they can fall behind with work, suffer bullying and fail to meet their potential.
In addition to our direct support for young carers, our staff can also work with schools to help them identify and support young carers, so they can achieve the best possible outcomes.
We can help by:
providing resources to deliver assemblies
providing PSHE materials, such as our People Like Us film and learning resource for secondaries, and the Different But Normal workbook and film for primaries
giving information and advice on the identification and support of young carers
assisting with establishing in-school support
liaising with Home School Link Workers and SENCOs
advising on setting up clubs for young carers
giving consultations and briefings in INSET days and staff meetings
providing 1-1 sessions on caring related issues
assisting the school to work towards the Angel Award
Please get in touch, and we'd be delighted to provide you with our resources, and support.
School Census
Starting Spring 2023, young carers are now (for the first time) included on the school census return. To understand what your school needs to do around this, please download this pack. We can also advise.
Materials and tools
We have a range of free resources for children to learn about young carers, and run an award scheme The Angel Award, for schools which demonstrates that they are 'young-carer friendly'.
A key learning resource is our People Like Us film and learning tool.
We also have a draft young carer policy for schools which you can adapt for your school.
A useful resource is our 'Young Carer's Poem', co-created by a group of young people, and recited by a young carer.
Young-carer created guides for schools
We've worked with a number of other young carer groups from across England, to produce guidance on identifying and supporting young carers in school:
Numbers of carers in school
* A study we commissioned (with Ecorys) showed there are clearly more young carers than identified in the 2011 Census. The survey of 11 secondary schools in Surrey found schools identified 4% of their pupils were young carers. This compares to the 2011 Census which found around 2% of young people were young carers. (It's likely those completing the Census simply do not make the connection between a question about looking after someone and children or young people in their own household.) The study was small, but has generated a relatively large sample size: larger than the two BBC studies that are often quoted nationally to estimate the 'true' number of young carers.
Surrey Young Carers in Schools report
In colleges and universities
Colleges will have many young people juggling the dual roles of student and carer. Many carers don't confide in their tutors about their caring role for fear of discrimination or of being viewed as different.
Young adult carers
We have information and support to help young adult carers (aged 18-24), including in their education. We also offer some tailored events for this age group, which can be found on our Events listings. If you know a young adult carer, please let them know about our support – or refer them to us.
Tutor Pack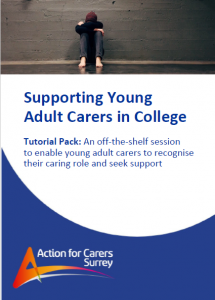 We have an educational pack for use in colleges. 'Supporting Young Adult Carers in College' is an off-the-shelf pack, designed to allow Tutors to deliver an hour's tutorial.
The lesson plan sets out objectives, with topics including 'what is a carer', 'how lives are affected' and 'what support is available'. There is also a supporting PowerPoint.
Supporting Young Adult Carers in College PACK
Supporting Young Adult Carers POWERPOINT
Please email [email protected] to find out more.
Fundraising in schools and colleges
You might be interested in fundraising for us, to support Surrey's carers. Find out more about how schools and colleges can support us.