Are you a member of a community group? Does your group, school or place of work like to be involved in fundraising for charities?
We would love to have you on board! If you would like to fundraise for Action for Carers we can offer you support every step of the way.
We'd be pleased to come in and chat to your group about our work.
Or if you have any questions  we would love to hear from you: [email protected]
Effingham Golf Club
We're delighted to be the Captains' chosen charity for 2021 at Effingham Golf Club.
They've produced this video to launch and celebrate their partnership with us. You can see it here.
The Club held its charity Golf Day in July in beautiful sunshine. We're so grateful for the captains' support and continued fundraising through the year. They started the year with a 2021 charity calendar with stunning photographs of the course, supporting Action for Carers, and raised funds for us even through lockdown.
Leatherhead Rotary
We enjoyed an evening of swing with Leatherhead Rotary's charity Big Band Concert in November, fundraising for Action for Carers Surrey's Surrey Young Carers service, alongside Prostate Cancer UK.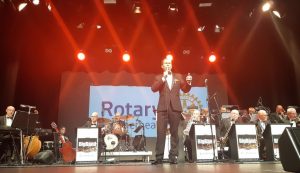 Leatherhead Rotary extended their 2020 support, and have been fundraising creatively all along, including an online Advent calendar highlighting members and their support for SYC, a quiz and a very successful golf day in August.
We're all hoping the Bluebell 10k will be back in May 2022. Come and join us for a lovely family run through woodlands and open countryside on Headley Heath – and fundraise for ACS.
Farnham Rotary
Farnham Rotary have supported us through 2020 and 2021, with fundraising and a great deal of local publicity. In September, they held a fabulous 'Great Gatsby' Roaring 20s charity dinner, supporting ACS's Surrey Young Carers and Helen Arkell Dyslexia Charity. The sun shone, the clothes were wonderful, and everyone was in a party mood – and very generous.

In November, we were delighted to collect a cheque for £4000 pounds from Norma Corkish, President. Thank you to everyone involved.
Thank you to all our community supporters

We are so very grateful to all our amazing community supporters which include local businesses, Rotary groups, Lions, golf clubs, choirs and schools. Their support really has had a huge impact on carers right across Surrey, especially our young carers, helping to improve their emotional wellbeing and happiness.