Effingham Golf Club record-breaking fundraising for Surrey's carers
Thank you to the generous members and Captains of Effingham Golf Club
In 2021, Effingham Golf Club chose Action for Carers Surrey as its charity of the year. We were over-the-moon. Then even more delighted to pick up a GIGANTIC cheque this March, from joint Club Captains David Cox and Sue Akers, for an incredible £44,591, which they presented to ACS Chief Executive, Jamie Gault.
David and Sue chose the charity as caring affects so many people and they were keen to support the broad range of work we do, helping carers aged from 5-95, right across Surrey. The money was raised through activities including a Golf Day in July and Christmas Fayre in November.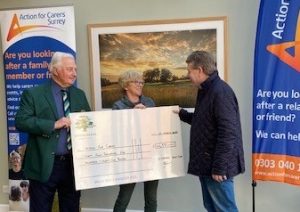 David said, "We think COVID encouraged people to be even more generous, knowing what challenges unpaid carers were going through. It's the highest ever amount raised in the Captain's Charity programme."
The money will go towards a range of activities and events for both adult and young carers, including opportunities for a little 'time out' and a break from the relentless challenges of caring.
Calling other Golf Clubs!
If you are part of a Golf Club that might be interested in supporting us, please give us a call! 0303 040 1234. Thanks again to the marvellous Effingham Golf Club and its Captains!