Nando's event to help carers' employment opportunities
Are you a carer who's seeking employment now, or think that you will be looking for work soon?
We have partnered with food restaurant Nando's to bring you an exciting Employment and Lunch Event this November.
Held at Guildford Nando's, on Tuesday 22nd November, 10am-1pm, the event aims to help you bolster your employment-seeking skills, followed by a delicious free lunch!
What's on offer?
We will be offering:
practical tips on completing applications forms,
interview techniques,
advice on how to transfer those skills learnt and developed while caring into valuable skills for future employers,
and how to deal with employments breaks due to caring on an application.
Of course, you'll also have opportunities to ask specific questions.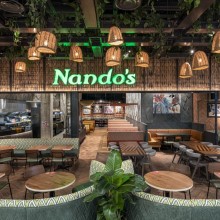 Nando's lunch
You'll also learn the story behind Nando's, where its beautiful restaurant artwork comes from, and of course the benefits that come with a career working for Nando's.
The event will be rounded off with a delicious FREE Nando's buffet style meal.
Recruiting now
Nando's are currently recruiting and understand many of struggles that can come with employment whilst caring, you will have the opportunity to apply if you wish, or ask any questions you have to identify if a career with Nando's could be right for you.
However, you do not need to be seeking employment with Nando's to attend and benefit from the event. Nando's are working hard to become a very carer-friendly employer.
Book soon! Places free, but limited
This event is open to any adult carer (18+), registered with us, living anywhere in Surrey.
Places are limited and you must book your spot in advance, please call 0303 040 1234, option 1, for more information or to book.