Masks - when to wear, and what to do if exempt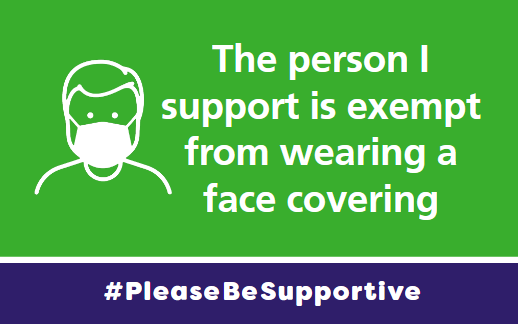 It is now compulsory to wear a face covering in shops and indoor shopping centres, supermarkets, banks and post offices, as well as when travelling by bus, train, ferry or plane. (The government is using the term 'face covering' to differentiate from 'face masks', which are more for medical use.) The World Health Organisation says face coverings should be worn in public, where social distancing is not possible.
It's vital that we all wear face coverings if we can. They can help stop the spread of Coronavirus, by reducing the likelihood of airborne transmission, and stopping those who are infected (but don't know they are) spreading it by blocking droplets from coughing, sneezing and talking.
However, there are exemptions for certain groups. Significantly for carers, this includes:
Disability
Learning disability or autism
Lung and breathing conditions
Physical or mental illness
Severe distress
Supporting someone who uses lip reading
When needing to eat, drink or take medication
Find the full list of exemptions and government guidance here.
Making your own
The government also have a guide to making a face covering.
Failing to wear a face covering and not being exempt, could result in a fine of up to £100, or £50 if paid in 14 days. Rules will be enforced by the police, generally not transport staff or shop workers.
Showing exemption
This website has downloadable/printable cards that you can use to show that the person you care for (or you yourself) doesn't have to wear a face covering.
The government have a range of options for showing exemption:
Transport for London also has 'face covering exemption cards' cards, free to download, for carrying while using public transport. The card can also be displayed on a smartphone.
If you have any problems with getting hold of a card to show exemption, please give our Carers Information Centre a call on 0303 040 1234, or email [email protected]