Fundraiser Jule completes amazing 100 Hats Swim Challenge
Jule completes final swim in 100 Hats Challenge
Huge congratulations and thanks to our fundraiser Jule Harries who completed swim number 100 of her 100 Hats Swim Challenge on a very hot day at Buckland Lake.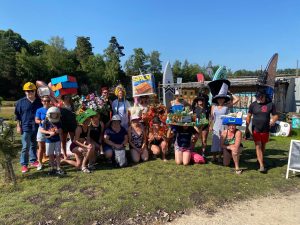 Jule started her Challenge 18 months ago. Her aim: to complete 100 outdoor swims, each in a different hat marking a notable occasion. She wanted to raise funds for – and awareness of – two causes very close to her heart: young carers and Alzheimer's research.
Marking her final swim were many friends, supporters, ACS staff and a mini-bus full of young carers from Reigate School where Jule works. Jule put many of her 100 hats – virtually all created by her – out on display, much to the fascination of the many Lake visitors.
Incredible hats
Jule has created some quite amazing hats for her challenges, and yesterday was no exception, an incredible replica of Buckland Lake Lagoon itself! She managed to do her final swim, despite the unwieldy shape of the hat, and finished to great applause.
A huge thanks to Jule from Action for Carers, especially our Surrey Young Carers service. It has been a remarkable achievement and we're very grateful for all she has done over the past 18 months. She's truly a super star.
Can you vote for Jule?
Jule is one of three people shortlisted nationally in the Annual Just Giving Awards' category of 'Creative Fundraiser of the Year'. Can you please spend just a moment to vote for her. Her winning would give her, and us, even more publicity. Thank you!
Please donate if you can!
Finally, if you can help Jule's up her final totals for this outstanding challenge, please donate here:
If you'd like to support her, and young carers, click here
If you'd like to support her, and dementia research, click here
You can see all of Jule's swims and fabulous hats on her Instagram page.
Thank you!