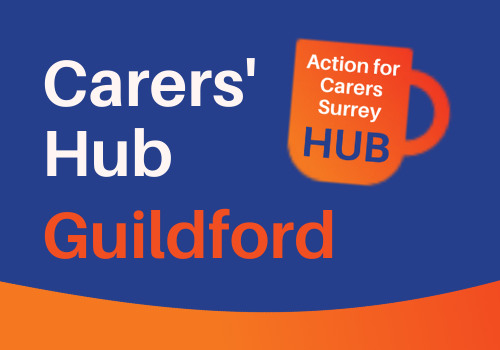 Come along to our Carers' Hub for information, advice and support. No need to book, just drop in.
Carers' Hub – Guildford
NB Because of work going on at The Hive, on the 6th and 13th November the Guildford Hub is at a revised start time, so instead of 10am-2.30pm, it is at 11.30am-2.30pm (the Support Group when running will still be 12 noon -1.30pm).
Also because of the works, you need to enter via the SIDE entrance (not the main entrance). Don't forget you can park in Kings College if The Hive car park is full. (We expect it to be open normally again from the 20th November).
Our Hubs are 'drop-in' locations for Surrey's carers to visit for advice and support.
At the Hub you can meet with Action for Carers' staff and volunteers. You can get information and advice on your caring role and the support available, and also enjoy a cuppa and a chat.
We often hold events at our Hubs too – such as special information events and support groups.
Parkinson's workshop
At this Hub we're running a session on being a carer for someone with Parkinson's, with Parkinson's UK and our Moving and Handling team. Find out more here.
The Hubs are 'drop in'…
There's no need to book, just come along. We'd be delighted to see you.
The Guildford Hub is open every Monday.
And find out more about our Hubs (including details like parking) here.