Young carers enjoy Family Fun Days at Hampton Court Palace
What a very royal summer we had!
We had three wonderful days at Hampton Court Palace for our family events this year welcoming 96 families with 128 young carers.
The days gave free entry to the Palace and Gardens, access to the Clore Centre for fun art and crafts activities and collection of a yummy free ice cream.
Each fantastic day closed with families collecting a wellbeing bag and more tickets to return for free!
Some feedback:
"So just wanted to say a huge thank you! It was just amazing and such a wonderful treat for all of us." 
"A huge thank you to Action for Carers and all the staff at Hampton Court Palace. My family and I have had the most wonderful day. There was so much to do and we managed to do everything. All the staff were fantastic and so helpful! We can't wait for the next one!"
"You all were so kind and very generous. We normally don't have opportunities to enjoy together as  a family . But today was such a brilliant day. Everyone was happy"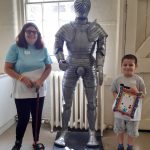 We were overwhelmed by the response and those who were not able to come on our fixed days, have been provided with free tickets (for four) to visit when it suits them!
Thank you Hampton Court
We are really grateful to The Historic Royal Palaces, and the Hampton Court team, for the amazing offer this year and enabling over 220 families free days out together.