St Mary's School, Chiddingfold gets young carers Angel Award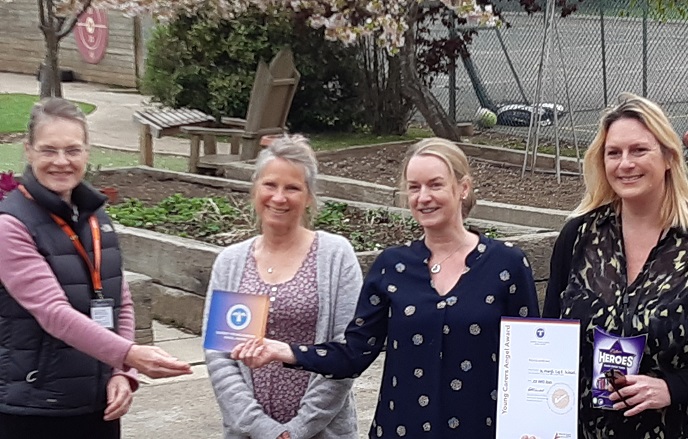 St Mary's Church of England School, Chiddingfold have been awarded Surrey Young Carers' Angel Award for their support for the school's young carers. The staff and pupils were able to enjoy the ceremony at a special assembly outdoors.
Surrey Young Carers, part of Action for Carers, were delighted to present the award to Sheila Buckley, Headteacher, Nicola Howell-Din, Home-School Link Worker and Siobhan Creswell, Teaching Assistant, recognising the school's work championing and supporting young carers.
 Supporting young carers in lockdown
Petrina Foster, SYC's Education Advisor for South-west Surrey, praised the school's dedication in meeting all the criteria for the award under difficult circumstances.
"St Mary's at Chiddingfold is a small village school but I was really impressed by their big-hearted children and staff. The HSLW Nicky, worked really hard to ensure all the children at St. Mary's know about Young Carers and support those friends who have a caring role at home."
 SYC Angel Award
Surrey Young Carers (part of Action for Carers Surrey) developed this award working with young carers, launching it in 2019. Our aim is to recognise schools that are providing real support to their young carers – and encourage all schools to do more. Find out more about the Award here.
A special school assembly
The school held a special young carers' assembly outdoors in the amphitheatre.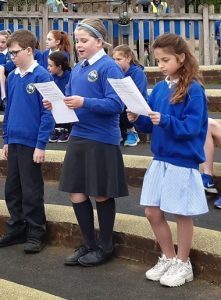 One of the 'Caring Kids' club explained: "A young carer is where you have someone to look after in your household." And another member said why she liked the club: "It's good to understand that you are not the only one who has to look after someone, other people do too."