Your Life, Your Choices
One hundred of our young carers had an amazing day on Saturday 26th March, at our 'Your Life, Your Choices' event, enjoying creativity and fun, and getting to know other young carers.

The event was all about learning to stay safe and make good choices, despite the pressures you may be under.
We heard from the amazing Dean of Urban Pure Solutions  about how to resist pressures from other people and get out of difficult situations. We talked about our lives and what's important to us, including creating 'story cubes' about ourselves.
And the inspiring team from Collaborate Digital ran creative sessions, with young carers writing audio scripts all about staying safe, which they then recorded together.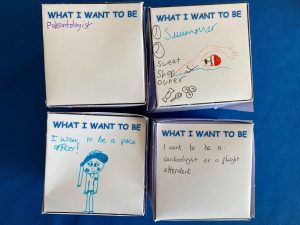 It was a great day, full of ideas, inspiration and helpful information.
Lots of thank yous
Thanks to all those who took part, and supported the event. This included The High Sheriff of Surrey who also attended on the day in his first official function, lunch boxes donated by Chelsea Football Club, and food and drink supplied by Morrisons Woking and Tesco Haslemere. Thanks too to Merrist Wood for a great venue.
Find out more about our service for young carers here