Support for survivors of domestic abuse in Surrey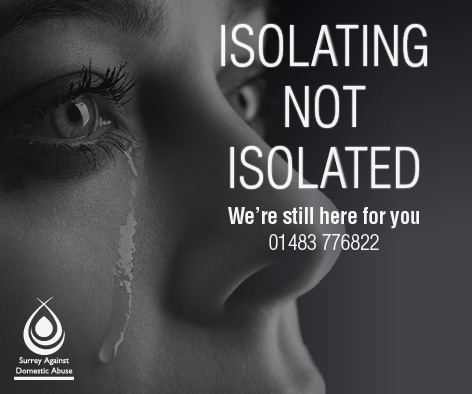 Lockdown, isolation and domestic abuse
In the past month all of us have experienced an unprecedented level of change to our day to day lives. For many this has been inconvenient, frustrating and hard to adapt to. But for others it has placed them in increasingly dangerous situations.
Rising numbers
Sadly in the weeks since lockdown there has been an increase in the number of domestic violence incidents and support charities report a 700% increase in people seeking help. Unfortunately the lockdown (although not an excuse for violent behaviour) has created situations which exacerbate violence triggers and removed many opportunities to access support.
What steps can you take to protect yourself or someone you suspect may be at risk?
We are joining other agencies across Surrey seeking to raise awareness of the issue and to promote the support available. For many people in abusive situations communication may be monitored and reporting incidents has become challenging. The 'one chance rule' (you may be the 'one chance' to save someone) has become more important than ever.
If you suspect someone may be at risk, or you need to access help yourself, below are some things you can do (or recommend that they do):
Know that you absolutely DO NOT have to remain in a dangerous situation. Despite the lockdown you are free to leave your home if you or your children are at risk – you WILL be supported.
Keep a mobile phone with you and charged at all times if possible.
Familiarise yourself with The Silent Solution system. If you are in danger and cannot speak, call 999 and when the operator answers press 55 – you will be transferred to the relevant police force as an emergency.
Know that the Surrey specialist Outreach Services (listed below) are still open and will be able to help you.
Find out about safety planning. There are lots of helpful apps like BrightSky and Hollie Guard which can help with this.
Familiarise yourself with how to delete your browsing history on both phones and computers – you can find some useful tips here.
Do not be afraid to call 999 in an emergency.
Support in Surrey
It's important to know that all Surrey specialist Outreach Services are still operating during the crisis and will support survivors who contact them.
East Surrey Domestic Abuse Services: 01737 771350
(Serving Reigate and Banstead, Mole Valley and Tandridge)
Your Sanctuary: 01483 776822
(Serving Woking, Runnymede and Surrey Heath)
North Surrey Domestic Abuse Services: 01932 260690
(Serving Epsom and Ewell, Elmbridge and Spelthorne)
South West Surrey Domestic Abuse Services: 01483 898884
(Serving Guildford and Waverley)
The above services are open Monday to Friday 9am – 4pm
Your Sanctuary Helpline 01483 776822 – this is available 7 days a week, 9am – 9pm.
Your Sanctuary online chat service is available here
National Support
Refuge run a 24 hour helpline – 0808 2000 247
If you are in danger, please call the police on 999.