Fairs for Surrey's carers marking Carers' Rights Day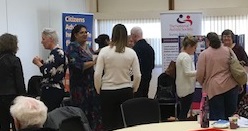 Free drop in fairs for Surrey's carers
Marking Carers' Rights Day (25 November), Action for Carers Surrey (ACS) is holding four information fairs for Surrey's unpaid carers.
With ACS staff, other charities and local organisations in attendance, carers will be able to ask questions – practical, financial and legal – about their caring role, as well as get general support, advice and information.
At the Fairs, as well as rights matters, there will be information on a wide range of topics important to carers, plus some relaxation and wellbeing sessions on offer.
Carers' Rights Day highlights the importance of all carers, whatever the stage of their caring journey, knowing and understanding their rights – and being able to access all the support they are entitled to and need.
The events are all drop-ins, and of course free.
When and where
The 2021 Action for Carers Surrey Fairs are happening at:
We also have other events marking Carers' Rights Day, including carers' rights expert Professor Luke Clements, presenting to our carers via Zoom on 23rd November (adults caring for children) and 25th November (adults caring for adults). See our Events Listings for more information.
New rights booklet
At the Fairs we'll also be giving out copies of our new booklet, the Carers' Rights Checklist, which presents all carers' rights in a simple to use checklist format. Created with carers, it covers The Care Act, assessments, your GP, emergency care, benefits, legal issues, looking after yourself, and more.