Berkeley Homes complete Surrey Three Peaks Challenge to support young carers
Berkeley Homes Team support Surrey Young Carers with Surrey Three Peaks Challenge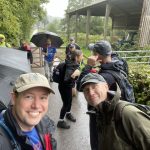 A BIG thank you to the energetic and committed team from Berkeley Homes who completed Surrey's Three Peaks Challenge last week, raising funds to help us support young carers in Surrey.
Berkeley Homes have been active supporters of Action for Carers and especially our young carers service, for many years, completing a number of fundraising challenges and events.
Surrey scenes
The team decided to take on the popular Surrey Three Peaks Challenge this September.
Taking in three classic Surrey hills – Box Hill, Holmbury Hill, and county-top Leith Hill, the Surrey Three Peaks Challenge is a 22-mile (36km) round trip route.