What is Young Carers Action Day?
In Surrey we have over 14,000 young carers – young people looking after a family member who needs help because of illness or disability.
Being a young carer can be tough. You have extra chores, worries and responsibilities – and can struggle to keep up at school, often missing out on a social life, and feeling isolated and stressed. A distressing new survey released by Carers Trust to mark YCAD shows just how extensive the issues are.
Young Carers Action Day (YCAD), the UK-wide day to raise awareness of young carers takes place on Wednesday 16th March. This year's theme is taking action on isolation.
Here's what one of our young carers reports
"At school I would often not get my homework done, or be very tired in class and struggle to pay attention. Some teachers used to "make an example" out of me in front of the class, pointing me out as a poor student because I didn't do my work or concentrate during class. If they had talked to me about it, they would've known that I was tired and struggling because my brother was having seizures twice a week in the early hours of the morning, and that I struggled to find time or space to do work at home because I was helping my mother." 
But…
"Later, during GCSE my graphics teachers asked about my situation when I started falling behind, and asked if they could help. They would stay a extra hour to allow those of us who needed it a space to work and catch up on coursework, with a teacher available to help if needed. They were always very supportive and it made a huge difference. I ended up getting A grades in the classes where I was supported and allowed this extra time."
Taking action on isolation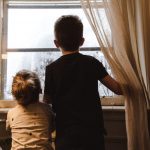 Young carers were very clear on the theme – they wanted the day to be all about securing action to address the isolation they experience as young and young adult carers. They highlighted how having the right support – such as regular short breaks from caring – can be really beneficial, giving them a better chance  of succeeding in all parts of their lives.
Give us a break
A key focus this year is asking decision-makers to commit to ensuring young and young adult carers can access respite breaks. These are essential in providing much-needed freedom from responsibilities and routines, as well as reducing isolation and promoting wellbeing. But there are many barriers, especially finances.
Providing free access to leisure facilities, free bus travel and free access to youth and sports clubs are just some of the actions that could be taken to tackle young and young adult carer isolation.
The day will also celebrate all the good practice taking place to provide access to support and services that helps prevent isolation among young and young adult carers. It's so important that young carers are able to live full and varied lives alongside their caring roles.
New animation launch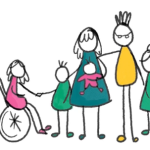 Marking Young Carers Action Day, our young carers have launched a new animation, talking about the benefits they feel from taking part in our Young Carers Forum, and how it helps bring them together.
Support in schools
Another important way to help isolation, is by having a Young Carers club at school. It helps children to realise that there are many others in caring roles, and find out about the support available, both in school and beyond.
We help schools support young carers through our Angel Award, which has a number of best practice standards a schools should achieve, including a Young Carers Club.
Find out more about our support for schools.
How health and social care professionals can help.
The National Voice of Young Carers has produced two new guides to help professionals better work with and support young carers. Read more here.
Tools for healthcare professionals
More about Young Carers Action Day
Young Carers Action Day is an annual event, organised each year by Carers Trust.
It's a day for raising public awareness of young carers and young adult carers, the pressures and challenges they face, and the incredible contribution they make by caring for their family members and friends.
It is also a day to call for more action to support young and young adult carers and give them the extra bit of help they need to live full and healthy lives.
The day attracts widespread participation and public attention.
Posters to download and share
There are two posters for you to download and share if you can. Thank you!
Below left: a poster asking young carers if they are missing school: click to download
Below right:  a poster asking other pupils if their friend is missing school: Click to download
 
Our call out to YOU
Thank you!