Vaccinations in Surrey
The COVID vaccine roll-out has been a huge success in Surrey. Anyone who has missed any jabs for any reason, is encouraged to make a vaccination appointment.
You can book via your local GP-run service, or online with the national NHS service. In many places you can get a walk-in vaccination without an appointment.
COVID-19 Spring Booster
You are eligible for a Spring Booster if you are:
Aged 75 years old or over
Aged 12 years old or over with a weakened immune system
People are advised to wait 6 months since their previous dose to get maximum protection from a spring booster.
You'll be contacted by the NHS, inviting you to book an appointment. Dates you'll be offered start from 3 months (91 days) after your previous dose, but booking an appointment around 6 months after your previous dose is preferable.
More about Surrey Heartlands boosters
Getting the vaccine in Surrey
If you haven't already, please ensure that you are registered with your GP as a carer. It's a good idea for all carers anyway, but even more important now.
If you're looking after someone who can't leave the house, your surgery can arrange to have it done at home. Contact your GP surgery for more information.
FAQs on getting the vaccine in Surrey: Surrey Heartlands areas
FAQs on getting the vaccine in Surrey: Surrey Heath
Vaccination locations
Some centres offer vaccinations without an appointment; for the latest list of places, times, and which age-group they are covering see the links below. You should also be able to get a jab even if you're not registered with a GP at all.
See the Surrey Heartlands website  and Frimley Health and Care website for the latest locations and times.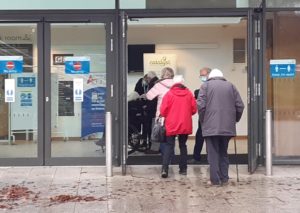 Some areas (such as Mole Valley and Surrey Heath) can help with getting you safely to the vaccination venue using their community transport service; you can find out more when you book your jab.
It's not too late to start
Don't forget that if you or the person you're caring for didn't take up the initial offer of a vaccine, you can still have it now. If someone was uncertain or perhaps weren't well, it's not too late. Just contact the NHS central bookings by phone or online, or your GP surgery, or go to one of Surrey's many walk-in sessions.
Boosters for carers – a Surrey GP explains
In this video, Surrey GP Dr Pamit Patel, explains the importance of boosters, how they work, and the benefit to unpaid carers.
Vaccine information for different audiences
For Nepalese speakers, there's also this helpful video explaining the vaccine. Surrey's Muslim Association has also given a Statement on the vaccine.
Easy Read information about the COVID and the vaccine is here. There's an Easy Read booklet on getting your vaccination.
Surrey Heartlands NHS have further information and links on alternative formats and languages giving information on the vaccine.