Coronavirus advice for carers
COVID is hard for everyone, but especially for carers. Here's the key information you need to know, with links to further sources of support in Surrey and nationally.
If you have any concerns, questions or worries, please get in touch. Call us on 0303 040 1234, email [email protected] or text on 07714 075993. We're here to support you, including our wide range of events and support groups.
Vaccination news
Read more about the process on our vaccine page.
Current restrictions
Restrictions are lifted but we all want to stay as safe as we can. See the latest guidance on the government's website here GOV.UK coronavirus how to stay safe
Shops, cafes, restaurants, cinemas etc are open, and they will each have their own rules about masks and distancing.
Care home visiting
The latest on care home visiting is here visiting care homes during COVID-19. There is separate guidance for those in supported living.
To 'prove' you are a carer, if required (for example, when attending a medical appointment with the person you care for, or to demonstrate your priority) we have an official letter for our registered carers (living in Surrey), authorised by Surrey County Council and the NHS in Surrey, the  NHS Carer COVID Identification Letter.
Find about the NHS Carer COVID Identification Letter
Personal Protective Equipment (PPE)
Personal Protective Equipment (PPE) includes things like gloves, aprons, face masks and eye protection that help to reduce the spread of coronavirus. If:
you support someone who cannot manage without your support,
you do not get paid for the support you provide and
you live in a different household to the person you care for, and in many cases if you DO live in the same household
you can now get free PPE to help keep you and them safe, and reduce the spread of the coronavirus.
Please get in touch with us — call 0303 040 1234 or email us at [email protected] to find out more and make a request.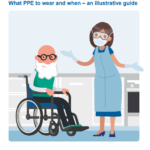 This Government guide explains all the types of PPE.
Trusted sources of support and information
Surrey County Council's full guidance is here – services, support, information
Surrey County Council's guidance for CARERS is here.
Their Surrey Community Helpline for there to direct you to services that can help during the coronavirus pandemic. It's there for two things:
To help direct residents who need support – if friends or family are unable to help – with such things as picking up shopping, prescription collections or having someone who can be a telephone friend, and to other services that can help.
To provide advice on where to register your offer of help to support your community.
Availability: Monday to Friday: 9am to 5pm. SMS: 0786 0053 465 for Deaf and hearing-impaired residents only (Monday to Friday: 9am to 5pm) or call your local district or borough council who can direct you to local support in your area.
National government advice is here – regulations, how to keep yourself safe, etc.
National government advice for CARERS is here.
COVID information in Hindi and Nepali available.
Misinformation – how to check
It's so important right now to know you are getting the correct information. This website has a helpful video (in English, and several other languages, such as Arabic), to help you be clear on what information sources are trustworthy.
Benefits and money matters
COVID may have impacted your finances – read about the support available.
Free home monitoring service
TIHM is a new remote monitoring support that helps you monitor your home, your health and your cared for's health. It's been set up to give extra support during COVID. It's available to people with dementia or mild cognitive impairment; people 65+ with a diagnosis of depression/anxiety; and carers of both these groups. It's free, and you can self-refer, or contact us for more information.
Further information on key COVID-related topics – click on the heading to jump to that section:
High risk and extremely vulnerable people
You or the person you care for may be classed as 'high risk/vulnerable' or 'Clinically extremely vulnerable'.
High risk includes everyone over 70, people with underlying conditions (the sort of condition where you're always instructed to get a flu jab on medical grounds), chronic heart or neurological conditions, and many more (listed here). This group is advised to follow the current guidance especially carefully.
Very vulnerable people may qualify for  3rd doses and boosters (4th doses), particularly for people with a severely weakened immune system. Talk to your GP or hospital doctor if you think you or the person you're caring for may qualify.
Clinically Extremely Vulnerable
The advice for people classed as Clinically Extremely Vulnerable (CEV) remains to be extremely cautious, even though official shielding has now ended. This applies for example to organ transplant patients, people with certain cancers, or severe respiratory conditions. There's more advice in the "Shielding" section of the GOV.UK guidance on shielding and protecting extremely vulnerable persons from COVID-19.
Getting supplies can be especially difficult if you're very vulnerable. You can call the NHS Volunteer Responders for help on 0808 196 3646, 8am-8pm, or the Surrey Community Helpline (see above).  The scheme for priority supermarket deliveries has ended and you are advised to contact your local council to find out what help is available. Details on the government website here. 
COVID-health concerns
For all general health-related COVID concerns, the first point of contact is the NHS COVID website, or call the NHS 111 line, or work through their Coronavirus helpline.
COVID-19 Testing
Anyone can now get a test: if you don't have symptoms, you can get a lateral flow test, which gives quick results. If you do have symptoms, you'll need a more detailed PCR test. Find out more, and make a booking on the Government's website. If you don't have the facility to book online, call NHS 119. You can go and get tested locally, or you can have tests sent to you. For more details on how testing works, look at Surrey County Council's website.
If you are fully vaccinated or under 18 you will not need to self-isolate after close contact with someone who has COVID-19 (you can take a daily lateral flow test instead), although there will shortly be new rules for people close to the Omicron variant, who will have to isolate. You'll still need to take a PCR test and self-isolate if your own test is positive, or if you have symptoms. Visit gov.uk for more information.
Test and trace
Please click on this government page to find out more about test and trace.
What do I need to do now?
Some key points to consider are:
Infection worries (if people come to your house)
Many carer households have paid carers coming to the house. You may also be a carer who lives apart from the person you care for and so have to go to their house. If you are concerned about infection-risks, here are some guidelines:
This Government guidance explains exactly what care workers should be doing; you can confirm with your worker or agency that they are following these guidelines to put your mind at rest.
If you have any questions, please contact us on 0303 040 1234.
If you become unwell
If you become unwell with Coronavirus symptoms you should call 111 to get the latest advice and information, and let them know you are a carer. You can also use the NHS 111 online coronavirus helpline or visit the NHS Coronavirus information page.
You may need to let Surrey County Council's relevant Social Care team know about your situation:
Surrey Adult Social Care Line – 0300 200 1005
Surrey Children Social Care Line – 0300 470 9100 (option 1+2)
Mental Health Carers – 0208 547 8030
Out of hours emergency line – 01483 517 898
Where you can, follow guidance on self-isolation. The self-isolation period upon developing COVID-19 symptoms is 10 days. If you are a contact of someone who has tested positive for COVID-19, you must self-isolate for 14 days. It is a legal requirement to self-isolate if you test positive, someone in your household has tested positive or you are contacted by NHS Test and Trace and informed to self-isolate.
If you are isolated at home and need help
Surrey County Council's service, the Community Helpline will let people know of trusted services who can help with things like picking up medication or doing shopping for you. The Community Helpline number is 0300 200 1008, and it is open Monday to Friday, 9am to 5pm. To get support, and for example to get access to priority supermarket deliveries, register via the Government website.
Keeping yourself active and well
You can find our coronavirus wellbeing pages here and you can also take a look at our standard wellbeing page.
We also have some tips on good mental health in these challenging times. You can also have a look at Active Surrey who have some great workouts for all ages and abilities. They also have lots of useful information around COVID generally.
Hospitals, medical appointments, and pharmacies
We are all advised to continue with medical appointments (although often by phone or sometime by secure video link rather than face to face). But if it's necessary to be seen (even for those who are clinically extremely vulnerable), we are advised to attend hospital and GP appointments unless told otherwise by your doctor.
For someone clinically extremely vulnerable if you need help to travel to an appointment, speak to the hospital or your healthcare professional to arrange transport support with NHS Volunteer Responders.
If you need medicines for an clinically extremely vulnerable person and no-one can pick these up, talk to the pharmacy as they will deliver free of charge. In fact, most pharmacies deliver prescription medicines these days, and have a link with local GP surgeries, so talk to your surgery.
Please note our Hospital Carer Support Advisors are still available to help you, communicating by phone and email. They know all about helping carers at East Surrey, Epsom, the Royal Surrey, Frimley Park and St Peter's and can help you navigate the COVID situation, as well as give you the support, advice and information they would normally.
Action for Carers
We remain fully operational, although with some changes to our events and support groups. More here.