Keeping healthy can be challenging at the moment but it is extremely important to take any steps you can to stay as well as possible. Below we have some information which is aimed at promoting good health and some links to where you can find more information.
Coughing exercises
These are very useful exercises which it is recommended to practise even if you are symptom free.
Stay Active
Keeping moving and active can be tricky with the current restrictions but it's important to keep your body moving and there are lots of creative ways you can do this at home.
Active Surrey have put together a brilliant collection of exercises and workouts that you can do at home. They've also helpfully grouped them by audience and there really is something for everyone!
Go to the Active Surrey workout page
If you're juggling work at home with caring and children it can all get a bit stressful, doing something silly like a ten minute dance around the room will get your blood flowing and shift some of that stress.
Get outside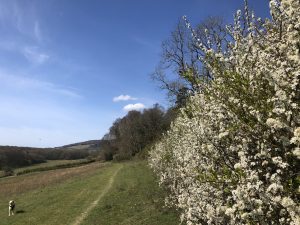 If you can get outside for your daily exercise, do. A brisk stroll or bike ride in the fresh air will not only give your muscles a work out but will help with sleep too. The weather has been pretty spectacular in recent weeks so even pottering in the garden will keep your vitamin D levels topped up.
Eating right
Getting at least 5 portions of fresh fruit and veg a day will help keep you topped up with the vitamins and minerals your body needs. Many chefs like Jamie Oliver and Jack Monroe have created healthy recipes to get through lockdown and helpfully they include suggestions of what you can swap in if you don't have the exact ingredients.
Planning your meals can be really useful… Not only does it reduce food waste but it can also mean you make better food choices.
The British Association of Dieticians is a good place to start if you want to look at improving your diet. They've helpfully put together a healthy eating fact sheet which you can see here.
Wellbeing
While it's important to take care of your physical self, don't forget your mental and emotional needs too. You can find some mental health top tips here. And don't forget our general wellbeing pages which also contain useful advice.