What do I need to do now?
Being prepared for emergencies is always a good idea as a carer, and even more so at the moment. It helps to think about things like which family members, friends and neighbours could help in an emergency. A key resource for being prepared is an Emergency Planning Form.
Find out more about emergency planning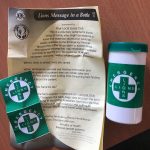 The Lions Club Message in a Bottle is a scheme where you store important information in a bottle in your fridge. You display one sticker on the inside of your front door and one on the fridge and emergency professionals know to look for them. If you would like one, contact our Carers Information Centre on 0303 040 1234.
Let your GP know you are a carer
This is always important, but a particularly good idea now. There's a simple form you complete – read more here.
School closures and critical workers
Schools and other childcare providers are continuing to provide care for a limited number of children of all ages – those who are vulnerable and those whose parents/guardians are 'critical workers'. Children classed as vulnerable includes young carers. You can read who is defined as vulnerable, and a list of 'critical workers' here. Your schools should also be communicating with you.
Schools are now open to more children, but each school will communicate with parents about their individual plans. Children in Reception, Year 1 and Year 6 are priorities, along with those in Year 10 and 12. Each school is making its own arrangements to ensure children learn safely, usually in small groups. For most of these children, it will be 'blended' learning until the end of the summer term, with some time in the classroom and some at home.
Shopping
Many shops are setting aside the first hour of shopping for older and vulnerable customers, including carers.  This page lists all the supermarkets' revised opening hours and any special access to on-line shopping and other community support for those isolating at home.
Carers' Assessments
If you haven't had one, consider asking for one. It helps ensure that you are recognised as a carer and your needs met. These assessments are no longer being done face to face, but you can still get help. More on Carers' Assessments here.
Practice great hygiene
You will already be doing this, but it's worth reminding yourself and any others in the household, including paid carers who come in, of best practice. You can ask your care provider what steps they are taking about infection control.
Look after yourself
Ensure that you're doing what you can to boost your own immunity; keep your diet healthy, have good air circulation at home, get some exercise if possible, and make time for yourself when you can. Read more on our wellbeing page.
Please click on this government page to find out about the government's 'test and trace' programme.
Register with Action for Carers
If you haven't already, register with us, to get access to our full range of support and services.