Vaccination rollout in Surrey
The COVID vaccine is progressing well in Surrey, with all adults now encouraged to make a vaccination appointment.
The vaccination programme is now inviting everyone aged 16 or over.
Getting the vaccine in Surrey
If you haven't already, please ensure that you are registered with your GP as a carer. It's a good idea for all carers anyway, but even more important now.
Under 18s
Vaccinations are now being offered to all 16 and 17-year-olds. This is handled by the GP-led centres, so the surgeries will be inviting this age-group for vaccinations. You can also get a vaccination in some centres without making an appointment; the largest is Sandown Racecourse in Esher (every day 8am-7pm), but there are others, sometimes as 'Grab a Jab' pop-ups on specific days.
See the Surrey Heartlands website  and Frimley Health and Care website for the latest locations and times.
Vulnerable young people and families of vulnerable people
16 and 17 year olds who are either clinically extremely vulnerable or have underlying health conditions should already have been offered a COVID-19 vaccine.
The groups listed below also qualify; talk to your GP about getting a vaccination if this is your situation as a carer.
12 to 15 year olds with the following health conditions:

severe neuro-disabilities
Down's syndrome
underlying conditions resulting in immunosuppression
those with profound and multiple learning disabilities, severe learning disabilities or who are on the learning disability register

12 to 15 year olds who are healthy, but who live with individuals (adults or children) who are immunosuppressed.
GPs are currently contacting families; if you haven't heard from your surgery by the end of August, get in touch with them. More details on qualifying on the government website.
Two paths to vaccination
Via the national booking system
If you're aged 18 or more, you will receive a letter from NHS England inviting you to book for a vaccine through the NHS's national booking system. That letter will explain how to book, but you can make an appointment without a letter now.  It's still worth making sure you're flagged as a carer with your GP, so you are invited for any future boosters or other vaccinations. Find out how on our GP page here.
You can contact the NHS to book an appointment online or by calling 119 free of charge. It helps if you have your NHS number to hand (which will be on any letter or appointment you've had from a GP or hospital). Of course, as a carer, you can make the booking on someone else's behalf, if they can't go online or call themselves.
If you book this way you will be offered an appointment at a larger centre (such as Sandown Racecourse) or a local pharmacy.
(Please see the important information about scams below – you will NEVER be asked to pay towards your vaccine in any way. It is always free.)
Via your GP
You will also be contacted by your local GP Network. It's important to register as a carer with your GP, as this will help them is assessing any priority for you or the person you're caring for. More on how to do this here.
These appointments will be available in a range of settings arranged by local GP surgeries and could be closer to home. In Surrey, these include George Abbot School, Guildford; Lakeside Country Club, Frimley Green; Farnham Health Centre; Chertsey Hall; Tandridge Borough Council's offices, and certain GP surgeries. There's even a mobile unit in Merstham: a bus which will be popping up at various sites in the area. The surgery will let you know your nearest venue when they get in touch.
Walk-in vaccinations (no appointment needed)
Some centres offer vaccinations without an appointment; for the latest list  of places, times, and which age-group they are covering see here for most of Surrey and here for Surrey Heath only. You should also be able to get a jab even if you're not registered with a GP at all.
FAQs on getting the vaccine in Surrey: Surrey Heartlands areas
FAQs on getting the vaccine in Surrey: Surrey Heath
How the vaccination centres work in Surrey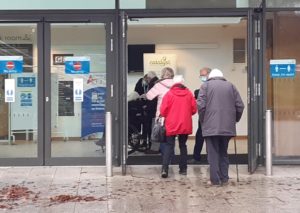 More vaccination centres are being added to the list all the time. These are extremely well organised, with helpful staff, clear signage, limited waiting times and of course COVID-safe set ups, including hand-sanitiser and distancing.
You're encouraged to arrive at your booked time (not early!) and it should take between 30 and 45 minutes.
If you book online, you can specify any special provision (such as disabled parking) and if you book in person via a surgery, of course you can discuss it with the caller.
Some areas (such as Mole Valley and Surrey Heath) can help with getting you safely to the vaccination venue using their community transport service; you can find out more when you book your jab.
It's not too late
Don't forget that if you or the person you're caring for didn't take up the initial offer of a vaccine, you can still have it now. If someone was uncertain or perhaps weren't well, it's not too late. Just contact the NHS central bookings by phone or online, or your GP surgery, or go to one of Surrey's many walk-in sessions.
Booster jabs
There are plans in place for a programme of booster vaccinations from September onwards, starting with the most vulnerable. Details will be announced nearer the time.
Explaining more
To find out more about the vaccines approved in the UK, see:
For Nepalese speakers, there's also this helpful video explaining the vaccine. Surrey's Muslim Association has also given a Statement on the vaccine.
Easy Read information about the COVID and the vaccine is here. There's a new Easy Read booklet on getting your vaccination.
Surrey Heartlands NHS have further information and links on alternative formats and languages giving information on the vaccine.
Scams – take care
Unfortunately, there is some 'scamming' around vaccinations, with people receiving fake phone calls and text requests, including some where you're asked to enter bank details. Please note you will only be contacted for the vaccine by the NHS, in the priority order, and the vaccine is FREE. Please read this guidance from the NHS in Surrey, and keep up to date on scams generally here.
Surrey NHS vaccination scam warning
More helpful information
Carers UK has this helpful information and also outlines its requests for further clarity and next steps in its Policy Plus guidance.
If you care for someone with autism, the National Autistic Society have this helpful guidance.