Vaccination rollout in Surrey
The COVID vaccine is being rolled out in Surrey. Rollout is working to the national priority groups order, vaccinating the most vulnerable first.
This priority list of 9 groups covers around 25 million people, and is believed to represent at least 90% (possibly 99%) of those most at risk of dying from COVID.
Residents in care homes for older adults
80-year-olds and over and frontline health and social care workers
75-year-olds and over
70-year-olds and over and clinically extremely vulnerable individuals
65-year-olds and over
16- to 64-year-olds with serious underlying health conditions AND CARERS
60-year-olds and over
55-year-olds and over
50-year-olds and over
Carers
The government's guidance clarifies that unpaid carers who are in receipt of Carer's Allowance, or are the main carer of an elderly or disabled person whose welfare may be at risk if the carer contracted COVID should be included in priority group 6,
Your next steps
Many carers will fall into the older age group categories and will be called for vaccine earlier based on their age.
But if you are younger, you should definitely ensure that your GP knows you are a carer (something that's important for all carers). So get in touch with your GPs now and make sure you are registered as a carer with them.
Getting the vaccine in Surrey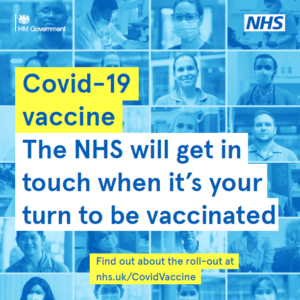 The NHS in Surrey has a helpful update on their website, and also these FAQs about the vaccine.
They say: We would ask local people to help the NHS by being patient; please don't contact the NHS to seek a vaccine, you will be contacted when it's your turn. 
If you are aged over 80 you may have received a letter from NHS England inviting you for a vaccine at a larger vaccination centre, located up to 45 minutes from your home. This is part of the national booking system. Once you receive this letter you can make an appointment online or by calling 119. (Please see the important information about scams below – you will NEVER be asked to pay towards your vaccine in any way. It is always free.)
You may also be contacted by your local GP Network. These appointments will be available in a community setting and could be closer to home.
Those over 80 who haven't been contacted yet will be invited soon; they won't be missed out. The programme will next be expanded to people over 75.
FAQs on getting the vaccine in Surrey
How the vaccination centres work in Surrey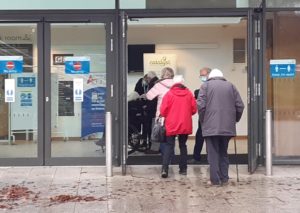 Vaccinations are mainly being offered from large centres  across the county, such as G-Live in Guildford, and Epsom Race Course; with large pharmacies likely to start soon. These are extremely well organised, with helpful staff, clear signage, limited waiting times and of course COVID-safe set ups, including temperature readings, hand-sanitiser and distancing.
You're encouraged to arrive at your booked time (not early!) and it should take between 30 and 45 minutes.
If you're taking your cared for, for their vaccination (e.g. if you're 77 and your husband is 85), it's always worth asking if you can be vaccinated at the same time. The vaccination centre is not under any obligation, but the JCVI's (Joint Committee on Vaccination and Immunisation) instructions are to be flexible, so it does no harm to ask (and has worked for some of our carers.)
Explaining more
To find out more about the vaccines approved in the UK, see:
For Nepalese speakers, there's also this helpful video explaining the vaccine. Surrey's Muslim Association has also given a Statement on the vaccine.
Easy Read information on the vaccine, and COVID available here.
Surrey Heartlands NHS have further information and links on alternative formats and languages giving information on the vaccine.
Scams – take care
Unfortunately, there is some 'scamming' around vaccinations, with people receiving fake phone calls and text requests, including some where you're asked to enter bank details. Please note you will only be contacted for the vaccine by the NHS, in the priority order above, and the vaccine is free. Please read this guidance from the NHS in Surrey, and keep up to date on scams generally here.
Surrey NHS vaccination scam warning
More helpful information
Carers UK has this helpful information and also outlines its requests for further clarity and next steps in its Policy Plus guidance.
If you care for someone with autism, the National Autistic Society have this helpful guidance.