Coronavirus advice for carers
COVID remains with us, and is hard for everyone, but can be especially hard on carers. We've some key information on this page, with links to further sources of support in Surrey and nationally.
As always, a great place to start if you need help is us. Call us on 0303 040 1234, or email CarerSupport@actionforcarers.org.uk. You can also text us on 07714 075993. We can also support you with a video chat (via Zoom).
Surrey County Council has COVID-related guidance on this webpage. The Council also have its Surrey Community Helpline service for things like help with collecting prescriptions. Call 0300 200 1008. If you are deaf or hard of hearing, SMS is 07860 053465. There is also a Textphone (via text relay) facility via 18001 0300 200 1008 and a Sign Language Video Relay service.
The most up-to-date Government advice for carers is here. And find all their latest guidance on things like keeping yourself safe, social distancing, face coverings etc. here.
Elmbridge Borough
Elmbridge has moved to Tier 2 of the Government's new local COVID alert level – further information here.
You are still able to ''to provide care or assistance to someone vulnerable' – so that means you can still go and visit the person you care for (if they don't live in the same household). We can also provide carers registered with us with a letter to show they are a carer, if that would be helpful to you.
And as a charity supporting carers, we are able to carry on with any planned events, groups or visits taking place in Elmbridge, naturally strictly following government guidance. All our other support also remains open to you – but if you have any worries or concerns at all, please give us a ring on 0303 040 1234.
On this page you will find information on the following (you can click to jump to the section):
High risk and extremely vulnerable people
Some people are classed as 'extremely vulnerable' – for example if they have certain cancers, or severe respiratory conditions. You would have had a letter earlier in Lockdown. For now, government guidance is lightened, and they say people can now go to work, shop etc, however, cautioun is advised, a long with of course strict observcence of good hygiene and social distancing.
The government say if there is an increase of cases in a local area, you could be advised to shield again. Your name remains securely on the shielded patient list held by NHS Digital, who will write to you if advice changes.
COVID-related concerns
For all general health-related COVID concerns, the first point of contact is the NHS COVID website, or call the NHS 111 line, or work through their Coronavirus helpline.
COVID-19 Testing
Find out about testing in Surrey on the Surrey County Council website's dedicated testing page. The Government has classified unpaid carers as 'essential workers' meaning you are eligible for a COVID-19 test.
More information on COVID-19 testing
Test and trace
Please click on this government page to find out more about test and trace.
What do I need to do now?
Cases are lower than they were, but there is always sadly the change of numbers going up. Some points to consider are:
For more detailed information, have a look at our page called What do I need to do now?
Infection worries (if people come to your house)
Many carer households have paid carers coming to the house. You may also be a carer who lives apart from the person you care for and so have to go to their house. If you are concerned about infection-risks, here are some helpful guidelines:
This Government guidance explains exactly what care workers should be doing; you can confirm with your worker or agency that they are following these guidelines to put your mind at rest.
If you are a carer who has to visit your relative's home, take a look at this helpful guidance.
If you have any questions, please contact us on 0303 040 1234.
If you become unwell
If you become unwell with Coronavirus symptoms you should call 111 to get the latest advice and information, and let them know you are a carer. You can also use the NHS 111 online coronavirus helpline or visit the NHS Coronavirus information page.
You may need to let Surrey County Council's relevant Social Care team know about your situation:
Surrey Adult Social Care Line – 0300 200 1005
Surrey Children Social Care Line – 0300 470 9100 (option 1+2)
Mental Health Carers – 0208 547 8030
Out of hours emergency line – 01483 517 898
Where you can, follow guidance on self-isolation. Ideally remove yourself or the person you care for to a different location. If you can't, then self-isolate as much as possible within your home.
If you are isolated at home and need help
Surrey County Council's service, the Community Helpline will let people know of trusted services who can help with things like picking up medication or doing shopping for you.
The Community Helpline number is 0300 200 1008, and it is open Monday to Friday, 8am to 6pm.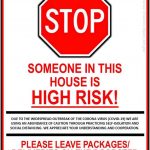 If you are self-isolating and want to make that clear to visitors, consider downloading this poster, and putting it in your front window.
Read more about self-isolation and social distancing here and see our guidance on keeping yourself active and well, including your mental health.
Keeping yourself active and well
You can find our coronavirus wellbeing pages here and you can also take a look at our standard wellbeing page.
We also have some tips on good mental health in these challenging times. You can also have a look at Active Surrey who have some great workouts for all ages and abilities. They also have lots of useful information around COVID generally.
Hospitals
Visiting hours and conditions at Surrey's hospitals have changed because of the situation. See the latest on our  hospital pages .
Please note our Hospital Carer Support Advisors are still available to help you, communicating by phone and email.
Transport and vehicles
Action for Carers
We remain fully operational, although with some changes to the ways we offer support. More here.