Fancy a bike ride for Action for Carers Surrey?
This year Ride London has changed – and now we can all do it! Instead of the usual ride down the Mall and up Box Hill, this year it's a sponsored ride anyone can do anywhere.
'My Ride London' lets everyone join in by cycling – or scooting, rollerskating, skateboarding, whatever your wheels! – in a huge national fundraising event around from 15th August.
Support Action for Carers as a rider or a donor
Anyone can do it
If you've got back on your bike under lockdown – or know someone who has – My Prudential Ride London is the event for you. It's open to everyone from the serious cyclist to those still using stabilisers. You can choose your distance and your wheels and raise money for carers at the same time!
Fundraising for Action for Carers
If you're getting sponsorship, or making a donation, we have our own dedicated campaign page. If you're taking part, you can set up your own page for sponsors; JustGiving explain how to do it on their special My Ride London page here.
And THANK YOU so much! Your support helps family carers of all ages throughout Surrey, especially young carers.
Find out about Jessica and Patrick's 100-mile ride here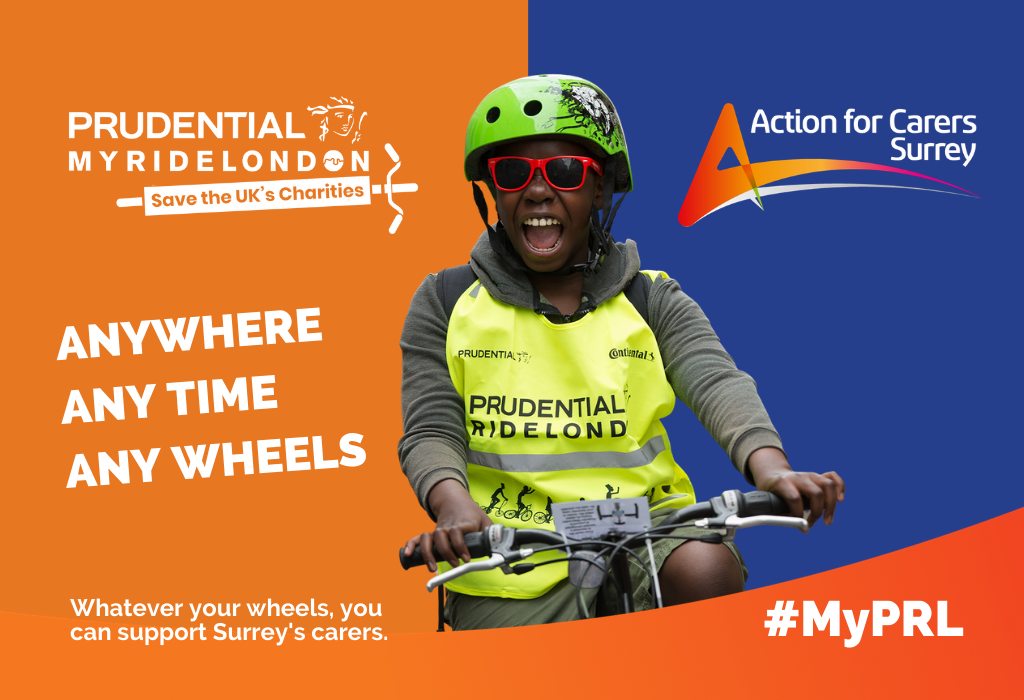 Anywhere – but stay safe!
Ride round the block, ride round the park – or even on an exercise bike indoors. But stay safe: keep distanced unless you're with your own household, and if you're on the road, remember there's more traffic now. Best to avoid the route used for Ride London-Surrey in past years; the roads won't be closed and it could be too crowded. There are planty of good cycling spots – challenging or family-friendly – across the county, so find your own space.
Any time
Although the main event is centred on the weekends of 15th-16th and 22nd-23rd August, we don't want to create a crowd, so keep your social distance by choosing a day that suits you. If the weather's too hot – or too stormy – do it another day; it's meant to be fun. And don't forget if you're planning a long ride, you can do it over several days..!
Any wheels
The choice is yours! Any kind of bike, tricycle, tandem, or scooter – it really is up to you. Get out your rollerskates, your unicycle or your skateboard. Do it in your wheelchair. You can even use an electric bike, which will help on those hills!