Think Carer, Think Family
Developing a best practice approach to supporting adult and young carers
Action for Carers has two free training workshops for Surrey's health, social care, and education professionals. Because Carers Count covers all the key issues surrounding best practice in supporting unpaid carers, and can lead on to our second (half day) course, Think Carer, Think Family which explores in more depth the family's wider role and needs.
Next course dates 2022 for Think Carer, Think Family
Monday, 31 January – 9.30am-1pm
Tuesday, 1 March – 9.30am-1pm
Tuesday, 15 March – 9.30am-1pm
About the course
This free training Zoom session gives practitioners across the health and social care statutory, independent and voluntary sectors, the opportunity to consider together how to support carers of all ages by developing a whole family, personalised and strengths-based approach.  Ideally, delegates will have attended the introductory Because Carers Count online training.
Commissioners, practitioners and providers have important duties with regards to carers of all ages which are outlined within the Care Act 2014 and The Children & Families Act 2014.  As well as outlining the legal rights of carers contained within these Acts, the session will explore the new 2021 National Institute for Care Excellence (NICE) quality standard on supporting adult carers.  NHS responsibilities towards carers will also be covered, including new potential rights being introduced by the Health and Care Bill 2021.
The session will also highlight national and local policies and procedures that help to ensure there is 'no wrong door' for young carers and that whoever or however a family in need comes into contact with an organisation, that a common approach and pathway is followed so as to ensure young people are protected from caring roles that impact upon their life chances.
It is vital everyone delivering health and social care support understands how to meet their legal and local practice responsibilities to both adult and young carers.
Aim
To help professionals consider their role and responsibilities in supporting the whole family & young carers; and to ensure they are compliant with legislation, policy and guidance.
Learning outcomes
By the end of the session you will be able to:
Recognise the importance of taking a 'whole family' approach to your practice;
Describe local authority duties and the legal rights of young carers and adult carers in relation to the Care Act and Children & Families Act;
Describe the role of the NHS and other key stakeholders in supporting carers;
Recognise the impact of caring upon young carers and the effect on their life chances;
Ensure appropriate referral pathways are followed when identifying a young carer;
Consider a best practice whole family approach to supporting adult and young carers including:

Recognising carers of all ages and intervening early on
Helping carers with difficult 'care' conversations within the family
Making the most of a strength's-based carer's assessment
Sharing information with carers and managing issues of confidentiality
Meeting carers' eligible needs and developing support and contingency plans
Working collaboratively to support carers within the context of the Covid 19 pandemic and the introduction of Integrated Care Systems (ICS).
Course delivery
The Zoom-delivered session runs 9.30am-12.30pm (with a short break) and is facilitated by a trainer who has worked extensively with carers, alongside a carer who will bring their own perspective to the day.
Your Attendance Certificate and workshop materials will be sent upon full participation in the event.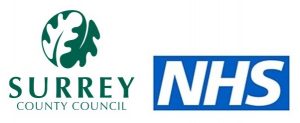 Action for Carers is supported by Surrey County Council and the NHS in Surrey to deliver this course.
Who should attend?
Practitioners from across the statutory, independent and voluntary sector who have contact with carers, young carers and the wider family in their health and social care practice. Ideally, delegates will have attended the introductory Because Carers Count online training.
There is a limit on places available each session, so please book immediately to secure your place. 
How to book
Please send an email to [email protected], stating:
Course name
The date you'd like to attend (see above)
Full name
Job title
Organisation
Contact details
You will receive a confirmation email. If you do not, or have any queries, please contact the ACS Training office, on email [email protected] or phone 01883 626264.
The course is free to you, but costs us to run. If you find you cannot attend after booking a place, please inform us immediately to allow us time to reallocate your place, so your place is not wasted.
GDPR note: Your contact details will only be used to inform you of free, carer related training & workshops. More information about how we use your data see our privacy policy.