Because Carers Count
Action for Carers has two free training workshops for Surrey's health, social care, and education professionals. Because Carers Count covers all the key issues surrounding best practice in supporting unpaid carers, and leads into a second (half day) course, Think Carer, Think Family which explores in more depth the family's wider role and needs.
Next course dates 2022 for Because Carers Count
Tuesday, 25 January – 10am-3pm
Wednesday, 23 February – 10am-3pm
Thursday, 10 March – 10am-3pm
About the course
This popular multi-agency introductory course has been a benchmark for over 22 years, providing a thought-provoking insight into the difficulties unpaid carers face in looking after a family member or friend. Although the Care Acts in 2014 put in place stronger duties on both local and health authorities to support carers, latest research reveals there is still some way to go in ensuring carers are recognised and get the support they need. Carers have faced even greater challenges with the COVID pandemic, putting them under huge pressure as they provide care to their older, sick or disabled family or friends.
Whether you work in health, social care or the independent/voluntary sector, it is therefore vital to ensure you are Care Act compliant, keeping up to date with legislative changes such as the Health and Care Bill 2021, and adopting best practice when working with carers.
Course content
Understanding carers' need for equality of opportunity and support
Understanding your legal duties towards carers in the context of the Care Act 2014, Children & Families Act 2014 and Coronavirus Act 2020
Latest facts and figures about carers and the impact of caring
Hearing directly from carers themselves about the difficulties they face and how they would like to be supported
Establishing effective relationships with carers and understanding their viewpoint
Learning about support and services available to carers in Surrey
Course delivery
Each Zoom session is facilitated by a trainer who has worked extensively with carers, alongside a carer who will bring their own perspective to the day.
The course runs 10-3pm. The morning and afternoon sessions both last two hours (with a short break), and a longer break for lunch.
Your Attendance Certificate and workshop materials will be sent upon full participation in the event.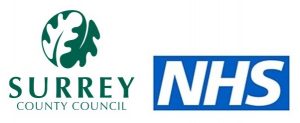 Action for Carers is supported by Surrey County Council and the NHS in Surrey to deliver this course.
Who should attend?
Because Carers Count is open to anyone working with carers (including young carers and parent carers) from a variety of professional backgrounds and experience. This can include managers or planners of services, front line staff working in health or social care or education or people more indirectly involved. All can gain a greater understanding of carers' issues and what our legal responsibilities are to carers in the light of recent legislation and guidance.
There is a limit on places available each session, so please book immediately to secure your place. 
How to book
Please send an email to [email protected], stating:
Course name
The date you'd like to attend (see above)
Full name
Job title
Organisation
Contact details
You will receive a confirmation email. If you do not, or have any queries, please contact the ACS Training office, on email [email protected] or phone 01883 626264.
The course is free to you, but costs us to run. If you find you cannot attend after booking a place, please inform us immediately to allow us time to reallocate your place, so your place is not wasted.
GDPR note: Your contact details will only be used to inform you of free, carer related training & workshops. More information about how we use your data see our privacy policy.