Coronavirus advice for carers
Things continue to change rapidly. We've some key information on this page, with links to further sources of support in Surrey and nationally.
As always, please get in touch with us for help and advice. You can call us on 0303 040 1234, or email CarerSupport@actionforcarers.org.uk. You can also text us on 07714 075993.
It's also worth noting the Surrey Community Helpline number – 0300 200 1008 – if you need help with food shopping or collecting prescriptions the Community helpline will be able to offer some help.

On this page you will find information on the following (you can click to jump to the section):
High risk and extremely vulnerable people
If you or the person you look after are defined as extremely vulnerable on medical grounds then you should practise 'social shielding'. Social shielding goes further than social distancing and means that you should not leave your home (even for shopping) and should minimise all non-essential contact with other members of the household. In most cases you will be advised to practise social shielding for 12 weeks. There is a lot more information and more specific detail on the gov.uk website.
If you are worried that you or someone you look after may be at risk, NHS 111 can offer direct guidance as they have set up an online coronavirus helpline. The NHS will be contacting people who are at particularly high risk of getting seriously ill from Monday 23 March onwards. If you suspect you or your looked after person fall into this category but you haven't received a letter by Sunday 29th March, you should call your GP or hospital clinician.
It is important to know that you can also register for support as an extremely vulnerable person. The government will ensure you get support with things like deliveries and food supplies. You can register for this on someone else's behalf and if you're not 100% sure you are classified as 'extremely vulnerable' the advice is to register anyway.
Get coronavirus support as an extremely vulnerable person
What do I need to do now?
Being prepared for emergencies is always a good idea as a carer, and even more so at the moment. It helps to think about things like which family members, friends and neighbours could help in an emergency. A key resource for being prepared is an Emergency Planning Form.
Find out more about emergency planning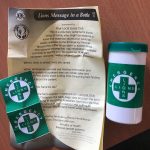 The Lions Club Message in a Bottle is a scheme where you store important information in a bottle in your fridge. You display one sticker on the inside of your front door and one on the fridge and emergency professionals know to look for them. If you would like one, contact our Carers Information Centre on 0303 040 1234.
Let your GP know you are a carer
This is always important, but a particularly good idea now. There's a simple form you complete – read more here.
School closures and critical workers
The government has asked parents and guardians to keep their children at home, wherever possible, and asked schools to remain open only for those children who absolutely need to attend. By having most children at home, we lower the risk of the virus spreading.
Schools and other childcare providers will continue to provide care for a limited number of children – those who are vulnerable and those whose parents/guardians are 'critical workers'. Children classed as vulnerable includes young carers. You can read who is defined as vulnerable, and a list of 'critical workers' here. Your schools should also be communicating with you.
Shopping
Many shops are setting aside the first hour of shopping for older and vulnerable customers, including carers.  This page lists all the supermarkets' revised opening hours and any special access to on-line shopping and other community support for those isolating at home.
Carers' Assessments
If you haven't had one, consider asking for one. It helps ensure that you are recognised as a carer and your needs met. More on Carers' Assessments here.
Practice great hygiene
You will already be doing this, but it's worth reminding yourself and any others in the household, including paid carers who come in, of best practice. You can ask your care provider what steps they are taking re infection control.
Look after yourself
Ensure that you're doing what you can to boost your own immunity; keep your diet healthy, have good air circulation at home, get some exercise if possible, and make time for yourself when you can. Read more on our wellbeing page.
Register with Action for Carers
If you haven't already, register with us, to get access to our full range of support and services.
If you become unwell
If you become unwell with Coronavirus symptoms you should call 111 to get the latest advice and information, and let them know you are a carer. You can also use the NHS 111 online coronavirus helpline.
You may need to let Surrey County Council's relevant Social Care team know about your situation:
Surrey Adult Social Care Line – 0300 200 1005
Surrey Children Social Care Line – 0300 470 9100 (option 1+2)
Mental Health Carers – 0208 547 8030
Out of hours emergency line – 01483 517 898
Where you can, follow guidance on self-isolation. Ideally remove yourself or the person you care for to a different location. If you can't, then self-isolate as much as possible within your home.
If you are isolated at home and need help
Surrey County Council have a new service, the Community Helpline. Advisors will let people know of trusted services who can help with things like picking up medication or doing shopping for you.
The Community Helpline number is 0300 200 1008, and it is open Monday to Friday, 8am to 6pm.
You can also see a list of many of these trusted services – mostly Councils for Voluntary Services and Volunteer Centres – here listed by area.
Other voluntary groups are springing up locally, e.g. via Facebook. These are lovely, but sadly a few may be scammers looking to take advantage. So we suggest you use the Community Helpline  as given above.
If you have a dog you might need help with walks. Ask friends or neighbour to help, or try charity The Cinnamon Trust.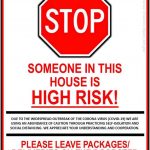 If you are self-isolating and want to make that clear to visitors, consider downloading this poster, and putting it in your front window.
Read more about self-isolation and social distancing here and see our guidance on keeping yourself active and well, including your mental health.
Keeping yourself active and well
We're pulling together information about the many things you can do to keep yourself active and well while at home – including ways to keep connected with others. And take a look at our standard wellbeing page.
We also have some tips on good mental health in these challenging times. You can also have a look at Active Surrey who have some great workouts for all ages and abilities.
Hospitals
Visiting hours and conditions at Surrey's hospitals are changing because of the situation.
We will post updates on our hospital pages as we have them.
Please note our Hospital Carer Support Advisors are still available to help you, though now working from home, communicating by phone and email.
Transport and vehicles
There have been some updates to transport and vehicles including a six month extension to MOT expiry dates due on or after 30th March although you must keep your vehicle safe to drive.
The majority of council run car parks in Surrey are also offering free parking which can be helpful if you need to collect prescriptions or supplies for your looked after person. Check the Surrey County Council parking page to see if your borough is included.
Many buses across the county are also running a revised service so it's worth checking the council's website for updates.
Action for Carers
We are still working to support carers (and registering new ones) but due to the outbreak, we've changed some things about how we offer that support.