It's Carers Week

It's time to celebrate the UK's unpaid carers and recognise the huge amount they do!
Carers Week 2023 takes place from Monday 5th June until Sunday 11th June. It's a national event to recognise and celebrate the UK's six million plus unpaid family and friend carers.
All about Carers Week
The theme of Carers Week this year is 'Recognising and Supporting Carer in the Community'.
It aims to raise awareness of caring, highlighting the challenges family and friend carers face, and acknowledge the huge contribution carers make.
It's also a time to help people who don't think of themselves as carers, to identify as carers and then access much-needed support.
What's happening in Surrey?

We'll be celebrating the Week across the county, with lots of free events and activities.
There's different events at different Hubs, including free massages, support groups, makeovers, Zine workshops, back care sessions and more.
There will of course also be free tea, coffee and cake available at ALL the Hubs to celebrate Carers Week.
We also have a 'Doing Well' workshop at Polesden Lacey on Saturday 10th.
And for those who struggle to leave home, free online events include mindfulness and yoga sessions.
Find details of all our activities below, or on our events pages.
Hub events
Our Hubs are open from 10am-2.30pm on the days shown below, with coffee/tea and cake on offer throughout that time.
Please simply drop in, and you can have refreshments, catch up with others, join in with any special events happening, and pick up your FREE Carers Week goody-bag.
We'll be joined by other community organisations also offering information and support.
We'll also be asking carers to share their thoughts on the Carers Week them on our 'Graffiti Walls'. We'll be sharing your comments with our service commissioners and the national carer charities, after Carers Week.
Monday 5th June
Woking – The Vyne Centre, Knaphill, Woking GU21 2SP
Guildford – The Hive, Park Barn Drive, Guildford GU2 8EN
Cranleigh – The Bandroom, Village Way, Cranleigh GU6 8AF
Tuesday 6th June
Camberley– High Cross Church, Knoll Road, Camberley GU15 3SY
Epsom – St Barnabas Church, Temple Rd, Epsom KT19 8HA
Wednesday 7th June
Horley – Horley Baptist Church, 289 Ct Lodge Rd, Horley RH6 8RG
Shepperton – Greeno Centre, Shepperton
Thursday 8th June
Hersham – Centre for the Community, 7 Queens Road, Hersham, Walton-on-Thames KT12 5LU
Caterham – Westway Community Café, 25 Chaldon Road, Caterham CR3 5PG
Friday 9th June
Leatherhead – Leatherhead Community Hub, Kingston Road, Leatherhead KT22 7PX (if driving, you need to go round the rear of the building, via Aperdele Rd
If you're an unpaid carer, then why not pop into your nearest Hub, and as well as celebrating Carers Week with us, you can find out what practical and emotional support is available.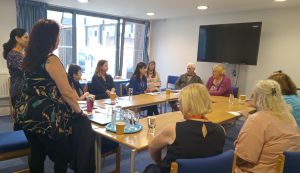 Online events
If it's hard for you to leave home, why not join one of our on line events taking place during Carers Week? 
Monday 5th June 10.30-11.30am – Yoga with Saara
Monday 5th June 6.30-8pm – Skin Care and Make Up
Tuesday 6th June 10-11.30am – All Carers Support Group
Tuesday 6th June 4-4.45pm – Mindfulness
Friday 9th June 10.30-12pm- Parent Carers Support Group
Other activities
All week – Look out for our stalls in Surrey's hospitals for you to find out about the support available for carers, both from ourselves and from the hospitals.
Tuesday 6th June 10-12.30pm – Zine Making (create your own, crafted, DIY magazines/comics) in Burpham, Guildford
Saturday 10th June, 10-12.30 – Being Well, Doing Well workshop at Polesden Lacey
Carer Week nationally
You can find out more about the day nationally here.